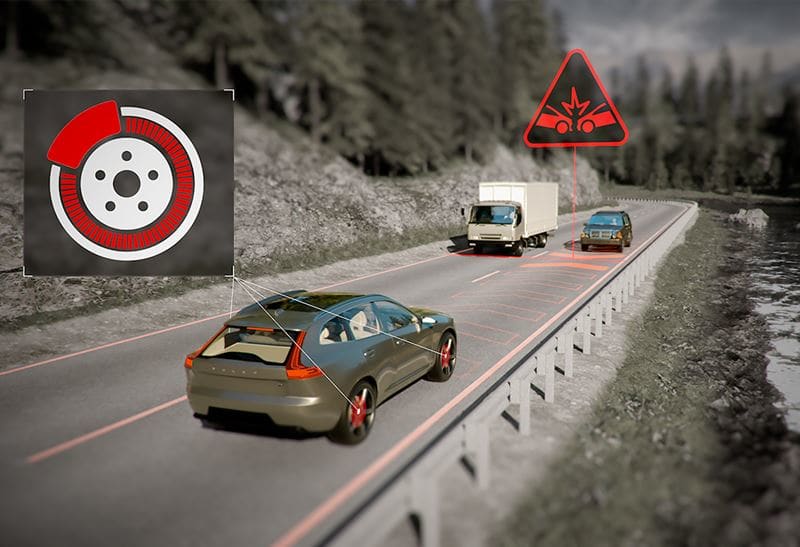 Since 1927, when the founders of Volvo Cars decided to focus on safety as one of the core values of the company, we have been a leader in the field. That will never change. What will change is the breadth of technologies we employ to improve your driving experience and safety.
IntelliSafe is the safety equipment that is standard in all new Volvo cars. This high level of safety that comes standard on all new Volvo cars is vital in helping us to achieve our safety vision of reducing exposure to safety conflicts on all vehicles.We have high standards - Learn more about some of the key features and how they contribute towards our Vision 2020.
IntelliSafe Standard.

Volvo Cars offers one of the most high-tech safety systems standard in your new Volvo. Every new Volvo comes equipped with advanced driver assistance features, from Autobrake and Steering Support to our patented safety cage.

IntelliSafe Surround.

IntelliSafe Surround includes BLIS (Blind Spot Information) with steer assist, Cross Traffic Alert with brake support and Rear Collision Warning. Your Volvo gives you all the information and support you need to know about everything in your vicinity.

IntelliSafe Assist.

IntelliSafe Assist includes everything you need for a  controlled and relaxed driving experience - especially on freeways. IntelliSafe Assist includes Adaptive Cruise Control, Pilot Assist, Distance Alert (only offered with head up display).




  
  
 

Safety cage

To help keep the occupant space intact in the event of a crash, our cars are made stronger in every sense. The complete safety cage around the occupants is made from hot-formed high-strength steel and is designed for maximum occupant protection in all types of crash scenarios.




 

Airbags

Volvo cars contain a range of airbags designed to help protect the occupants in the event of a crash. They include the driver airbag, located in the steering wheel, the front passenger airbag, located in the dashboard, side airbags, introduced by Volvo in 1994, and inflatable curtains, another Volvo first from 1998.

  
  
 

Safety belts

Did you know that the three-point safety belt was first put into production by Volvo Cars? It was designed by Volvo engineer Nils Bohlin in 1959, years before it would become available in most cars. Volvo also pioneered safety belts in the rear seat and a three-point safety belt on the rear seat mid-position. The rear safety belts are vital for the passengers using them, but also for the occupants in front. The three-point safety belt is one of the most important inventions for mankind and it is the most important protective safety feature in the car.

 

Seats

Our current generation seats are made of different grades of steel, to ensure safety and comfort. The energy-absorbing functionality between the seat and seat frame helps to reduce spine injuries. It deforms mechanically to cushion the vertical forces that can arise when the car encounters a hard landing. This is an intergral part of of our Run-off Road Protection feature.









  
 

Lane Keeping Aid

To keep your car safely on course, our Lane Keeping Aid senses if you start to leave your lane unintentionally and gently steers you back on track.

 

Oncoming Lane Mitigation

Oncoming Lane Mitigation automatically helps you steer back into your lane if it detects that you have crossed the lane markings, heading into the path of an oncoming vehicle.

 
 
 
  
 

City Safety

City Safety helps to protect people inside and outside the car by spotting potential danger and helping you avoid it. At speed differences up to 50 km/h between the car and the vehicle in front, a collision can be avoided if the driver does not react.

 


Run-off Road Mitigation

Run-off Road Mitigation can help reduce the risk of a road departure. It assists with steering to help put you back on a safer path.

  
  
 

Driver Alert Control

If you are getting drowsy or inattentive at the wheel, Driver Alert Control will alert you and prompt you to take a break.


Active and connected safety systems

Our new safety mitigate crashes, improve driver alertness, communicate speed limits and even communicate directly to other cars when there is a danger on the road ahead with our Slippery Road and Hazard Light Alert features.

  
Make an Inquiry
Hours
Monday

9:00 am - 6:00 pm

Tuesday

9:00 am - 6:00 pm

Wednesday

9:00 am - 6:00 pm

Thursday

9:00 am - 6:00 pm

Friday

9:00 am - 6:00 pm

Saturday

10:00 am - 6:00 pm

Sunday

Shop 100% Online