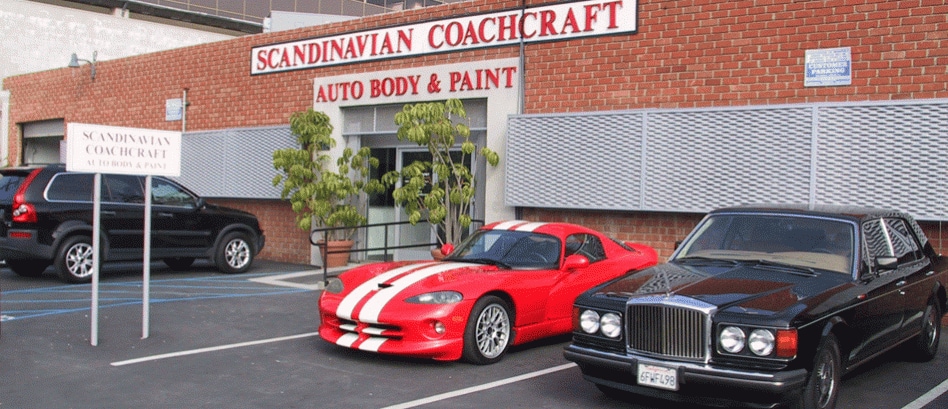 Scandinavian Coachcraft - your one-stop collision repair facility. We are proud to be recognized as a Volvo Certified Collision Facility. Our factory trained and I-CAR certified technicians are here to help with your collision needs. We are committed to repair your vehicle back to its pre-loss condition.
Our computerized paint measuring system guarantees a color match to your vehicle. Equipped with 3 heated paint booths, we have a European and Domestic paint line to provide a smooth, factory finish.
We work on all makes and models from Acuras to, of course, Volvos.
FAQS
Q?

Do I need an appointment for an estimate?

A.

No, you can come by for an estimate at any time within the business hours of 7am to 6pm on weekdays and 8am to 2pm on Saturdays.

Q?

My insurance company tells me you're not one of their approved shops, but can I still have my car repaired there?

A.

YES! Your insurance may "suggest" one of their repair facilities, telling you "there may be additional charges" or "we won't guarantee their work". We assure you, there will be no additional charges to you other than your deductible, if it applies. AND, you are NOT required to have your vehicle repaired at one of their shops. By California law, you have the right to select the repair facility of your choice.

Q?

How long will repairs take?

A.

At the time you drop off your vehicle, you will be given an approximate time frame. We will keep you posted throughout the repairs as promptly as possible. Should there be any additional damages, we will notify you and the insurance company (if applicable) with the details and, if possible, a target date.

Q?

Since my car is already there for an insurance claim, can I have additional work done?

A.

Of course! There would never be an easier time than now. You'll save money now, since there will be certain repair operations that would already be covered by the insurance.

Q?

Who pays for my rental car?

A.

If you have rental car coverage on your insurance policy, your claims adjuster can set up a direct bill with the rental agency based on your rental allowance. There may be a balance on your end depending on what your policy covers. Your insurance agent or broker should be able to provide you with this information. If you have to pay for the rental yourself, call the local Enterprise @ (310) 445-1034 and tell them we referred you. They'll work out a special rate with you to accommodate your needs.

Q?

I don't have rental car coverage. Is there a way to speed up the repairs so I won't have to spend too much on a rental car?

A.

We'll do everything in our power to repair your vehicle as quickly as possible, without compromising it's quality and safety.

Q?

What forms of payment do you accept?

A.

We accept Visa, MasterCard, and the Discover card. We also take personal checks if payments do not exceed $1000.

Q?

What about my deductible?

A.

Payment of your deductible to due upon the time your vehicle is ready for pick up.

Q?

Will there be any other charges other than my deductible?

A.

In most cases, no. We will work with your insurance company to make sure they cover any and all charges that exceed your deductible.

Q?

How long are the repairs guaranteed?

A.

We provide a limited lifetime warranty for our workmanship for as long as you own the vehicle!!!

Q?

Other questions or concerns?

A.

Feel free to call us at (310) 479-5171 
Culver City Volvo Cars is proud to partner with Scandinavian Coachcraft.
Contact them at:
Scandinavian Coachcraft
2234 Colby Avenue
Los Angeles, CA 90064
Telephone: 310-479-5171
FAX: 310-479-5172
Make an Inquiry